(Hong Kong, 30 October, 2023)  — OSL, the leading digital asset platform operating under BC Technology Group (863.HK) proudly announced a strategic partnership with the Faculty of Business of The Hong Kong Polytechnic University (PolyU Business School ) to establish the OSL-PolyU Faculty of Business Research Centre for Web 3.0 AI ("the Research Centre") at the "Navigating the Web3 Frontier" event hosted at PolyU on 25 October 2023. This collaborative initiative will harness the collective expertise of Hong Kong's digital asset industry and academia to spearhead the development of Web 3.0 technologies and Artificial Intelligence ("Web 3.0 AI").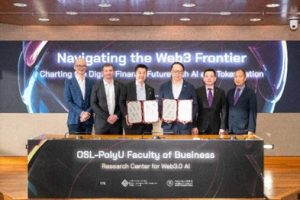 The tokenisation of real-world assets through Security Token Offerings (STOs) has gained global traction across diverse industries, improving asset liquidity, investment accessibility, flexibility in structuring, security and compliance. This transformative trend empowers global issuers and investors to engage in seamless digital transactions of tokenised value via both public and private blockchain networks. OSL Digital Securities, Hong Kong's first SFC-licensed digital asset platform offering Security Token (STOs), provides a robust foundation for relevant research and innovation. Leveraging its expertise, the Research Centre is poised to extend its capabilities to explore innovative Web 3.0 business applications incorporating both AI and tokenisation.
This collaboration in digital asset research is one of the first in Hong Kong and represents a significant milestone not only for OSL but also for Hong Kong and the global digital asset market. It is in line with Hong Kong's forward-thinking approach to digital asset regulation and its ambition to become a leading global financial hub for digital assets.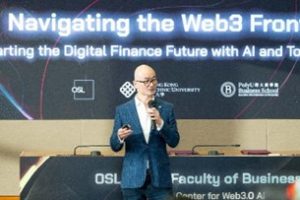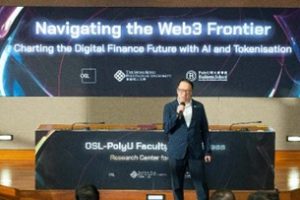 Gary Tiu, Executive Director & Head of Regulatory Affairs of OSL and  Professor Brian Kei Fintech Practitioner and Professor of Practice (Fintech) at the School of Accounting and Finance of PolyU shared their keynote presentation
"We are excited to announce our partnership with PolyU Business School, pooling resources to unlock the enormous potential of AI and tokenisation technology. OSL will be at the forefront of the blockchain and AI revolution. Tokenisation and AI-driven trading technologies will bring high-quality real-world assets in tokenized forms to global investors, redefining the investment landscape." said Ken Lo, Deputy Chairman of BC Group.
This partnership is set to catalyse the creation of innovative technologies applicable to Web3.0 and digital asset markets, further propelling advances in regulation and compliance with which OSL is poised to extend its leadership in the regulated digital asset market, committed to excellence and advancement within the industry.
Professor Brian Kei Fintech Practitioner and Professor of Practice (Fintech) at the School of Accounting and Finance stated, "PolyU Business School and OSL are embarking on a groundbreaking partnership to shape the future of AI and tokenisation technology. By synergizing our strengths, we will nurture innovation, expediting the development of cutting-edge solutions poised to revolutionize the capital markets."
Ken Lo added, "Through this collaboration with PolyU Business School, we will actively explore the applications of tokenized representation for real-world assets in a safe and compliant manner, spanning token creation, trading, custody and financing, thus strengthening Hong Kong's stature as a global digital asset hub and financial centre."
Bringing Together Academia and Commerce, Nurturing the Student Community
In addition to these notable achievements, this collaborative endeavour serves as a springboard for future career prospects, offering students a seamless transition into promising roles within an ever-evolving sector. To foster this sense of community begins with the launch of an exciting hackathon, igniting the spark of innovation among students and strengthening their ties with industry leaders. This collaboration, anchored in experiential learning and real-world exposure, promises to empower students, ensuring they are well-prepared to navigate the dynamic landscape of the digital future.
More event photo highlights:
| | |
| --- | --- |
| Thought leaders, innovators and educators engage in enlightening fireside chats, discussing the pivotal role of AI and Web3 technologies in shaping the 21st century. Insights and inspiration flowed freely, setting the stage for a future driven by innovation. | |
| Attendees from diverse backgrounds forge valuable connections during the networking session. This visual testament to collaboration exemplifies the dynamic synergy that fuels our vision of a tech-savvy future. | |
| Our guests enjoy delectable F&B offerings that fuel conversations and creativity. Even in the midst of innovation, there's always time to savour the flavours of success. | |
For HD photo, please visit: https://bit.ly/46ISgIL
END
About OSL and BC Technology Group
Backed by Asia's leading public fintech and digital asset company, BC Technology Group (863.HK), OSL is the world's first SFC-licensed and insured digital asset platform. Founded in 2018, OSL has an established history in the sector and is recognized by many as the leader in providing comprehensive regulated and licensed digital asset solutions.
OSL offers Markets services (brokerage, exchange, and custody) and SaaS technology solutions, which deliver institutional clients in addition to professional and retail investors access to the best-in-class digital asset platform, along with a fully regulated liquidity pool. OSL's secured and insured hot and cold wallet infrastructure also ensures the safekeeping of digital assets with timely transaction settlements.
As the digital asset industry continues to evolve, so do we. Our simple and tailored approach compliantly navigates international clients through the evolving digital assets environment.
For more information, visit: osl.com and bc.group
Press enquiries