(Hong Kong – March 22, 2023) OSL, the digital asset business division of BC Technology Group (863.HK), today announced at The AWS Financial Services Industry Forum, the launch of FinLink, a first-of-its-kind, plug-and-play software, and professional services solution. It enables financial institutions to innovate safely and begin their digital assets journey, offering a secure and reliable sandbox environment, leveraging Amazon Web Services (AWS) infrastructure.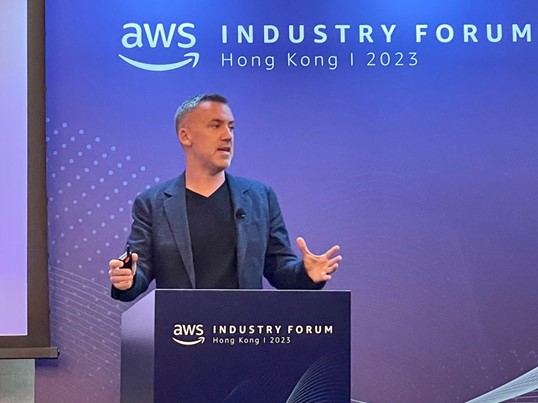 Key benefits of FinLink
● Deploy digital asset capabilities in just 12 weeks
FinLink allows financial institutions to deploy various capabilities including trading services, middle and back-office operations, custodial services, and wallet management. The scoping, building, and testing of the proof of concept can be completed within twelve weeks.
● OSL's technological backbone powers FinLink's seamless integration
The platform, built on the same technological backbone that has seen OSL integrate with some of the world's biggest financial institutions, comes with the support that enables businesses to integrate digital assets into their existing operations and workflows.
● Develop use cases and operating procedures for digital asset strategies
The software can be used to assist financial institutions to consider use cases, including digital assets markets access or trading, tokenization of TradFi assets, stablecoins, or other security tokens.
● Upskill knowledge and execute a winning go-to-market strategy
FinLink's professional services offering serves as a partner to educate and formulate the best way to execute a go-to-market strategy for digital assets and develop the appropriate standard operating procedures required for a financial institutionto come to market.
"We're thrilled to launch FinLink in the regional Asian markets and Australia, where we have seen strong and sustained interest from banks and traditional financial institutions in developing their digital asset capabilities," said Hugh Madden, CEO at BC Group & OSL. "We believe there is a significant opportunity for financial institutions to innovate with digital assets, and FinLink provides a turnkey solution that allows businesses to explore the potential of digital assets with our support."
Dedicated account manager, project team, and support
The OSL team guides initial scoping discussions with client teams, runs workshops providing deep dives on core digital asset management topics, defines and configures standard workflows on the platform, deploys the core product platform, and provides support for standard integrations or tech work via a professional services agreement.
Mark Hiriart, Global Head of Distribution – SaaS at OSL, added, "The FinLink product was born out of our conversations with some of the world's leading financial institutions, where we identified the need for an off-the-shelf digital asset technology solution that could be rapidly deployed in a secure manner while providing training and knowledge transfer. With the support of our team and the capabilities of the FinLink platform, institutions can develop a deep understanding of digital assets and explore how they can be integrated into their existing operations."
Empowered by AWS to ensure the consistent client experience
Leveraging AWS, OSL has developed FinLink to provide a scalable and reliable, financial services grade hosting environment with consistent uptime and platform availability. At the same time, AWS provides a wide range of security services for OSL to comply with international compliance standards.
END
About OSL and BC Technology Group
Backed by Asia's leading public fintech and digital asset company, BC Technology Group (863.HK), OSL is the world's first insured and SFC-licensed digital asset platform. Founded in 2018, the company has a long history in the sector and is recognized by many as the leader in providing comprehensive regulated and licensed digital asset solutions.
We offer Markets services (brokerage, exchange, and custody) and SaaS technology solutions, which deliver institutional clients and professional investors access to the best-in-class virtual asset platform, as well as the world's deepest liquidity pools. Our secure and insured hot and cold wallet infrastructure also ensures the safekeeping of digital assets with timely transaction settlements.
As the digital asset industry continues to evolve, so do we. Our simple and tailored approach compliantly navigates international clients through the evolving digital assets environment.
For more information, visit: osl.com and bc.group
Press contact
[email protected]